Daniel Frazier: Artist-Writer-Filmmaker
Artwork
---
Until recently, my work in drawing has been in the form of cartooning. From comic books to strips, my interest in artwork was as a tool to tell linear stories. I then noticed at the comic conventions I attended a lot of independent comic artists were supplementing their income by selling sketch cards. Intrigued, I obtained permission from Todd Goodman of Old World Comics (the publisher of my comic series The Adventures of Nightclaw & Prowler) to create a series of sketch cards of characters appearing in the company's line of books.

Since that time, I have started to branch out into other forms of art outside of comics. I now have a greater appreciation for the stories a single image can tell. They can oftentimes be just as deep and engaging as a story told through many cartoon panels.


---
Powered by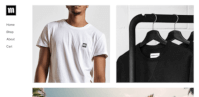 Create your own unique website with customizable templates.