Daniel Frazier: Artist-Writer-Filmmaker
---
Overtime is my tip of the hat to filmmakers who create horror and suspense through what they don't show rather than what they can. John Carpenter's The Thing, while containing some of the greatest practical special-effects ever committed to film, also has many spine-chilling moments that focus on nothing more than an empty hall, a lighted window far off in the distance or a turning doorknob. A lesser-known but just as chilling horror film is Dark Night of the Scarecrow, which Overtime "borrows" liberally from. In Scarecrow, it is waiting for the monster to appear that keeps a viewer on the edge of their seat, and that is what I strove for with Overtime.

Turn out the lights, sit back and enjoy. And try not to think about the darkness around you or the footsteps approaching from behind....
---
---
Powered by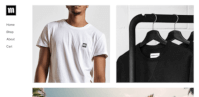 Create your own unique website with customizable templates.