Daniel Frazier: Artist-Writer-Filmmaker
---
Patience was born as a school project but took on a life of its own for me. I wanted to make a short film but with limited resources and time I wrote the movie as a series of short scenes that were connected in the narrative thread but not dependent on one another. This way, if a scene could not be completed by the deadline then it could be skipped completely. From this, I learned to focus on the elements of a story that mattered while trimming away the unnecessary elements. In the end, the entire script was shot and only one scene didn't survive the editing process.

This piece remains one of my favorite works that I have ever done. Please enjoy.
---
---
Powered by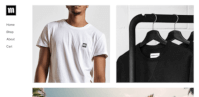 Create your own unique website with customizable templates.